Forever Friends...
Words to Ponder:
"So long as we love we serve. No man is useless while he is a friend."
~ Robert Louis Stevenson
Friendship is a precious gift that must be cherished and nurtured. A true and strong friendship is founded on trust, protected by loyalty, and maintained by communication. Friends set aside time for one another, keep each other's secrets, and stand by one another in good and bad times.
What is a Friend?

On our way to Greenbelt...
A chair when I'm weary
A smile when I'm sad
A drink when I'm thirsty
A switch when I'm bad
A safe for my treasures
A map on the road
A shoulder to carry
The half of my load.
At last, we meet again. It's been quite long time since our last 'get together party'. We decide to meet because we missed each other and we want to share what happened for the past years, about 'LOVE LIFE', etc.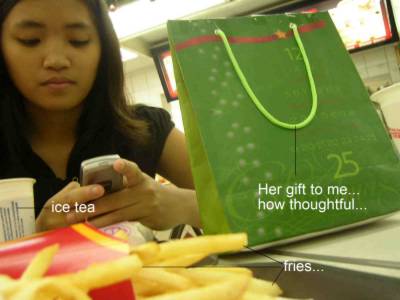 A lamp in my darkness
A lock on my door
A rose in my thorn bush
A rug on my floor
A hug when I'm hurting
A fire in the cold
A jewel more precious
than diamonds and gold.
We then watched the movie 'Sigaw' @ G4. Unfortunately, manong guard saw my cam so this is the only photo I got.
A shade in the noontime
A gate in the wall
A song in the evening
A ride to the ball
A call when I'm lonely
A cheer when I win
A home that is waiting
To welcome me in.
Going back to Greenbelt to buy my school supplies.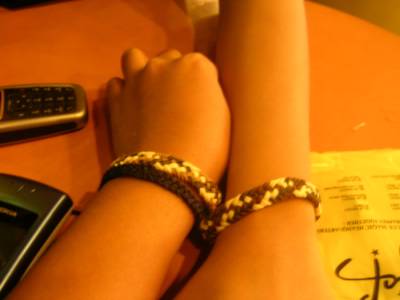 We then went to Robinsons, Ermita to buy 'friendship bracelet' @ Blue Magic.

A picture that somehow
Resembles your face
A manner that makes me
Remember your ways
A touch that, compared with
Your touch, feels the same
A voice that responds to
the sound of your name.
Daffodil Castro DedelInside Out, Vol. 1 No. 1
Discussing for the upcoming 'reunion' @ Starbucks, Vito Cruz.
Time to go home...
A person who truly loves his friends rebukes them when they are heading the wrong way. He neither condemns nor tolerates the wayward ones, but seeks to guide them back to the right path. A true friend is even more of an encourager. He praises more often than he criticizes. His rebuke saves his friends from disaster, while his encouragement helps them to become the KIND OF PERSON God intends them TO BE.