One meal per day!
Words to Ponder
: "The best mirror is a friend's eye."
~ Gaelic Proverb
I'm so happy of what happened this morning in the church. After the 1st service, our head pastor approached me and told me that he was blessed last Sunday when I lead the service. I can't explain the feeling! Even the people whom I don't know approached me and expressed their reactions. When they said, "You sing well!" I only said, "To God be ALL the glory!"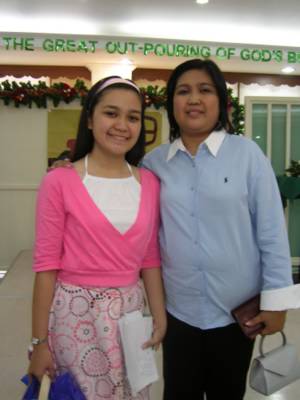 My sister and my mom after the service...
Why 'one meal per day only!'? Here's the real story. Yesterday Micah went in our house to borrow the Little Prince book. I even gave her the summary of the book to help her. We then went to McDo to eat but I wasn't satisfied. I'm in a fasting for 7 days and I only got one meal per day. Good thing, Micah has been fasting since last night.
Good thing I didn't erase it...
Nice uniform...


Be sure to wash your hands before eating...

Try this... Fries with McFlurry...

My crush... Mariel of Extra Challege...