Three Reasons in Watching PBB Teen Edition
I was a fan of PBB first edition 'cause at that time everybody has no idea what was PBB all about. Then came PBB Celeb. edition. For me that was kinda 'corny' so I didn't watched that season. Now we have Pinoy Big Brother Teen Edition. Sounds interesting right? Hhhmmm…
My three reasons why it is a MUST to watch PBB Teen Edition:

First Reason: Mariel Rodriguez is now the main host of PBB. Wah! She's so witty and pretty! I like her! *lol
Second Reason: Sunday night (the launch of PBB Teen Edition) I was kinda switching channels from ABS to HBO ('cause I was watching CONSTANTINE!). So I got a glimpse on each teen housemates and I switch back to HBO. But this housemate really caught my attention. When I saw her vtr, I forgot that I was watching Constantine. Man! She's so pretty! Wanna know who she is? Her name is Kim. The chinita girl from Davao or Cebu. I like her too! *lol
Third Reason: This may sound 'corny' but at some points we can get lessons from this show.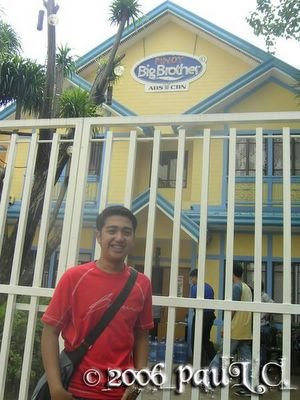 In front of Big Brother's House.

Medyo thin pa ako 'cause this photo was taken last year pa. *lol
Gggrrr!!! I wasn't able to watch yesterday's episode! I was at my gimmik. Gggrrr!